Sapphire Engagement Rings
Sapphires and rubies are no newcomers on the bridal jewelry scene but, have become even more popular in the past few decades. The dream sapphire ring worn by (late) Lady Diana with the gem, being worn decades later by Kate Middleton did ignite interest in sapphires. Many style gurus claim that, the change in purchasing trends of engagement rings, pushed the market away (slightly) from diamonds and closer to colored gemstones. Young couples are taking a more responsible stance when, choosing the engagement ring - the carat diamond and 2 months salary media campaigns, are growing a bit dull. If you are looking for an engagement ring, give sapphires a good look and remember that blue is not the only color in which sapphires are found. Yellow, orange, white, green, purple and pink are all colors that can be found in natural colors. Interestingly many of these colors are priced lower than blue sapphires even, when they have a good color and clarity.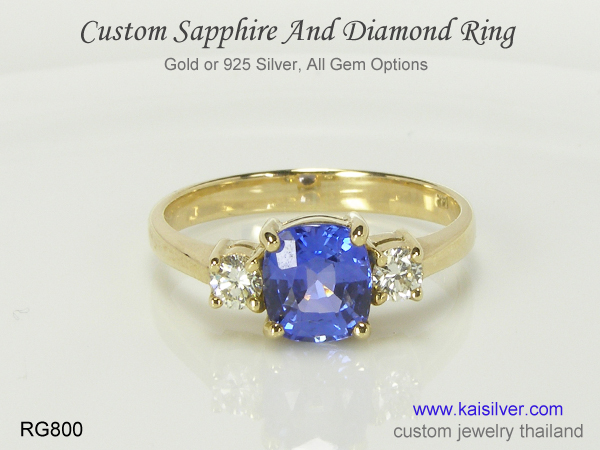 A scintillating blue sapphire engagement ring. Neither large and bulky nor tiny and insignificant. Perfect dimensions for a special occasion ring. The 6mm - 7mm cushion cut sapphire gem is flanked by a glittering diamond on either side. Custom sapphire engagement ring 14k or 18k white, yellow or pink gold - sterling silver option ... more.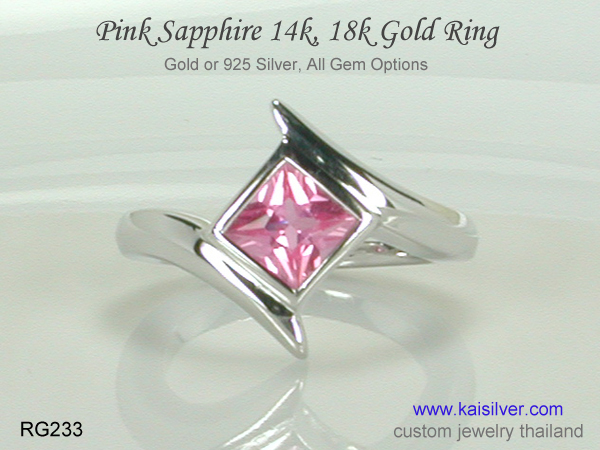 A white gold sapphire engagement ring, choose from yellow, pink, green and blue sapphire. The design can be customized to include a round or oval sapphire gemstone. Custom engagement rings with sapphires, can be crafted in gold or 925 sterling silver - your design or ours. Crafted by expert jewelry artisans in Thailand ... more.
So how much should you be spending for your sapphire engagement ring. Honestly this is not something for us to decide, you will be a better person to judge budgets and expenses. However let us make a small case for prudent spending without sacrificing on quality. Think of a sapphire engagement ring that has a modest gem size, big carat sapphires are priced extravagantly and might shoot out of most budgets. If you are attracted to sapphires but, feel that some connection to the diamond convention needs to be maintained, select a gold or 925 silver sapphire engagement ring with a few small diamonds sprinkled into the design concept. Go for a classic design, don't rush for current fashion and trends - these can come and go but, you need to wear your ring for a long time. At Kaisilver we would strongly suggest that you choose a good, well crafted and durable engagement ring with sapphire gems. This is because we encourage the practice of passing such important jewels to the next generation. It is really not about saving money in the future but rather, about building family ties and keeping sentiments satisfied.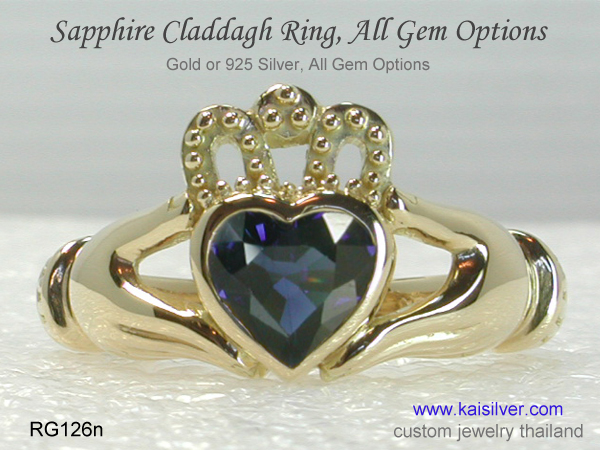 A 4 century old legend, the Claddagh ring symbolizes love, togetherness and loyalty. Undoubtedly one of the most meaningful engagement rings that you will ever find. Jewelry artisans with decades of expertise in Thailand, craft each claddagh gemstone ring in gold or silver. Choose from pink, green, blue or yellow sapphire ... more.
A finely crafted sapphire diamond ring, this engagement ring combines a contemporary and classic look. The RG237 Kaisilver gemstone engagement ring can be ordered in all gold colors or sterling silver. You can combine different sapphire gem colors in the ring. You can choose the gemstone of your choice for the ring ... more.
Sapphire Ring Highlights:
Insist on a natural sapphire gemstones, conventional heating is an accepted treatment.
Pay for quality in terms of clarity and color, let size play a secondary role.
Open up to white, yellow, green, pink, purple, orange and blue sapphires.
Go for a custom sapphire ring, include your preferences in the design.
You can use small diamonds to add glitter and beauty to the ring.
If you are not already aware, both silver and gold are now regulars on the bridal scene.
Do not compromise on workmanship and durability.
Consider passing the sapphire engagement ring from generation to generation.
Add beauty to the ring by choosing metal color based on sapphire color selected.
A 3 gemstone sapphire engagement ring, the 3 gems represent the past, present and future. Shown with 3 square sapphire gems, the RG220N can also be ordered with other sapphire gems. The design can be customized to accept up to 5 gemstones. The band width is influenced by the size of the gemstones in the ring ... more.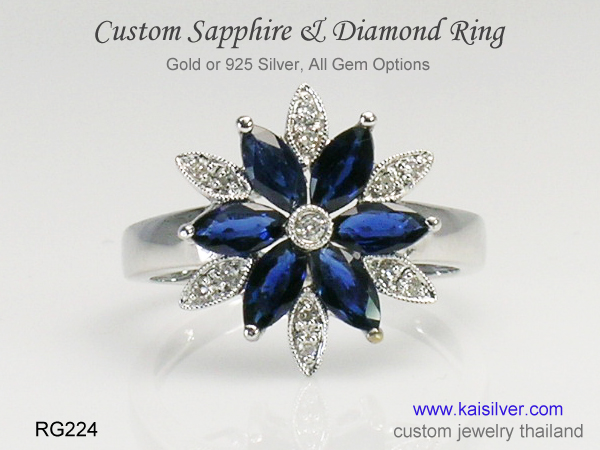 Inspired by nature this sapphire gold or 925 silver engagement ring, is perfectly suited for women of all ages and complexions. With the refreshing design taking center stage, the ring can showcase a host of sapphire colors. Crafted by Kaisilver in Thailand, the RG224 ring can combine any gemstones of your choice ... more.
The handpicked engagement rings on this web page are handpicked by our seasoned stylists. While it is absolutely fine to pick an engagement ring design that you like, we would recommend that you don't give emphasis to trends and fashion. This is simply because fashion comes and goes, but the solemn significance of engagement and wedding rings is eternal. You would always love to wear your engagement ring, a simple and yet elegant design will ensure that it suits every occasion - formal and informal. You would also want a sapphire gemstone ring that pairs well with most, if not all the dresses in your wardrobe. When a sapphire ring design has multiple gems, consider mixing different sapphire colors in the same ring. The RG224 white gold engagement ring, could alternate blue and pink or blue and white sapphire gems. The RG237 sapphire gemstone ring, could alternate pink and blue sapphires in the same ring. Just remember that it is your ring, you need not over fuss about conventions and need not follow something just because we, or any other jeweler recommended it.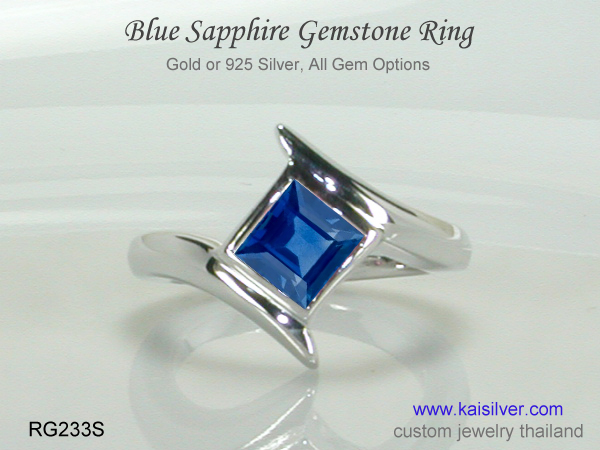 A classy sapphire white gold ring, this ring shows how an elegant and refined ring design can be tough and long lasting. Perfect for a silver or gold sapphire engagement ring, this jewel will serve you well for decades - without much caution and care. The same engagement gold ring can also be ordered with a round or oval gem ... more.
An engagement sapphire ring that makes a feminine statement, crafted with pink, green, yellow, or blue sapphire gems - the ring can also combine different sapphire colors in the ring. You could wear the same ring as a wedding ring. A unique engagement ring design that, sets it apart from what you have been seeing for decades ... more.
Kaisilver: Widely considered to be the world's most trusted online source for custom jewelry, we craft all types of jewelry in gold or 925 sterling silver. Some of Thailand's finest artisans work on the jewelry that we craft. We do not place any limitation on design and gemstones, you can send in your own design images or sketches to be custom made. You can also pick a design from our website and request for design modifications, all jewelry can be ordered in gold or 925 silver. Our close connection with almost every gem mining center in the world, combined with preferential access to more than 200 million carats of cut and polished gems ensures that, you need not limit your gem selection to what you see on our website. Contact our support experts at sales@kaisilver.com for any questions or requirements that you might have related to gems and jewelry. You need not make any purchase from us to take advantage of our expertise so, do not hesitate to get in touch with us.