A stunning blue sapphire and diamond ring, fit for a princess but priced very modestly. A handpicked 6mm cushion sapphire gem is firmly set between two glittering 2.5mm round diamonds. You might say that this elegant design is perfectly suited for a special occasion ring, one that would perfectly symbolize an engagement or wedding. Having said that, it is also true that the spectacular jewel is not priced very extravagantly - it is also durable enough to withstand daily wear. Blue sapphire has been a very respected and popular gemstone throughout history. Closer to our times, it was the gorgeous sapphire diamond engagement ring worn by (late) Lady Diana that, triggered a big surge in the sales of blue sapphire rings. A few decades later, Prince Williams got his (then) fiance Kate Middleton a sapphire engagement ring too - interestingly, the sapphire in the ring was the same one that was set in the ring worn by Lady Diana. Some gem experts are not so sure that blue sapphires needed any royal patronage to remain in the limelight but, the fact is that the royal wedding sparked higher interest in the blue beauty.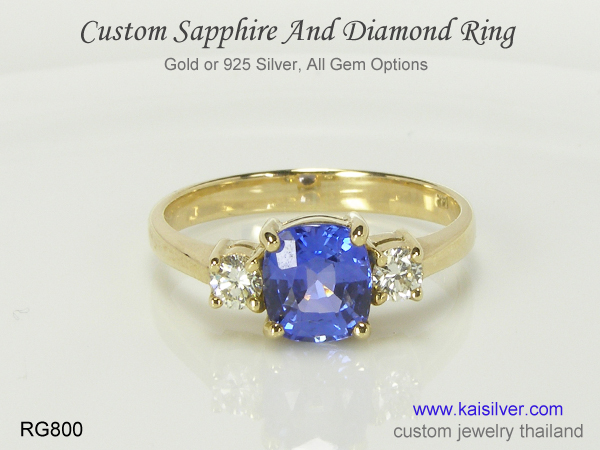 While cushion shaped sapphire gems are not impossible to find, sapphire rings with round, oval and pear shaped gems are more common. This is what makes the RG800 cushion sapphire ring even more unique and desirable. Just keep in mind that this is a custom sapphire diamond ring, you can therefore request for a change in gem shape or size. A specific price quote will be worked out for such requests. Sapphire and ruby belong to the corundum mineral family, the mineral is strong and hard so you need not fuss over your sapphire ring. Some amount of care and caution is required when wearing any jewel, so try not to bang the jewel or gem around. It is interesting that, blue is most often the implied gem color when people talk about sapphires. Many jewelry lovers are not aware that, pink, white, yellow, orange and green are some of the other colors in which this amazing gem is found. In ancient times, the existence of sapphires in other colors was never known. It was therefore presumed that a sapphire would always be blue. An amusing fact is that, many other blue gems during that time were labelled as sapphire and this included, blue lapis lazuli.
For those of you wishing to buy this cushion sapphire ring as a self-purchase or a gift for some one dear to you but, are looking for a special occasion to do it, here are some interesting suggestions. This is one gem that has always been associated with honesty and tolerance. This combined with it's rarity has always placed sapphire in the top gem preferences for, a wedding or engagement ring. So if you plan to tie the knot or to make a promise to do that soon, you just cannot go wrong with the RG800 sapphire diamond ring. Sapphire finds a place on the anniversary and birthstone charts, it is the gem for the 5th and 45th anniversaries and also the birthstone for the month of September. For most quality conscious jewelry lovers, the price tag on this gorgeous diamond and gemstone ring, would be an attraction. You really need not wait for a special excuse to buy it, so get to know the details of the ring on this page. And if you love sapphires but already have an enviable collection of blue sapphire rings remember that, pink, white, green, yellow and orange are some of the other colors in which this highly sought after gemstone is found.
Kaisilver is one of the very few custom jewelry providers to maintain the same quality for gold and 925 silver jewelry orders. This sapphire gemstone ring with diamonds, can be ordered in gold or 925 sterling silver. For the gold ring, we offer options for 14k and 18k gold and you can choose from yellow, white or pink gold. While we can do white rhodium, yellow gold or rose gold plating for the silver sapphire ring, you should know that no plating done on silver lasts permanently. The climate, water composition and the degree of wear and tear, will decide just how soon or slow the plating will wear off. Keeping the silver cushion sapphire ring un-plated will make it easier to clean and polish the jewel but, we leave the final decision to you.
Highlights Of The RG800 Sapphire Ring:
Available in 14k, 18k white, yellow or pink gold.
Available in 925 silver with or without plating.
Custom made, so modifications can be accommodated.
Fine craftsmanship and handpicked gems for the gold and silver sapphire diamond ring.
Good gold weight, 8 to 10 grams - this adds to the durability of the ring.
Sapphire color options - blue, pink, white, yellow and green.
All gem options available, not limited by what is shown on the website.
Available in all ring sizes, gold weight may vary as per size.
The side diamonds are natural, 2.5mm round diamonds.
Request for 3mm diamonds can be made, at an additional charge.
Request for round or oval center gemstone can be made, price quoted on request.
Pricing For The RG800 Sapphire Diamond Ring
Please review the details in the table. As mentioned above, your gem options are not limited by what you see in the table or on the website. You can email our support experts at sales@kaisilver.com with any questions that you might have. We would suggest that you do not rush to make a purchase until, all your questions have been satisfactorily answered. Once you have all the information, it is up to you to decide from where to make the purchase.
Production time for your sapphire ring would be around 4-6 weeks from the date that, we receive payment. We accept payment through Paypal and Western Union but, do not recommend Western Union for first time buyers. Let us know which mode is suitable for you and we, will provide details for the same. We might consider accepting payment through other modes but, prefer to decide that on a case by case basis.
Your item will ship through FEDEX with web tracking and the number, will be emailed to you the moment the parcel ships. The shipping charge is 45 U.S$ to most destinations. We will consider other shipping carriers but, are unlikely to agree to any mode where, the parcel cannot be tracked online through the entire journey up to your doorstep.