With hundreds of ready made bracelets displayed in jewelry stores, it might seem surprising that discerning buyers still prefer to wear a made to order bracelet. Jewelers push bracelets that have attractive prices to gain wider markets, this may often involve compromising on long term durability. It is also likely that you have a specific design concept in mind when shopping for your gold or 925 silver bracelet, in this case a custom bracelet is the only way to go. Gemstone bracelets focus on the gemstones, made to order bracelets will allow you to pick your choice of gems, shapes, sizes and cuts. A good example is a family birthstone bracelet that includes birthstones of all family members, this piece could surely become an heirloom jewel in the family.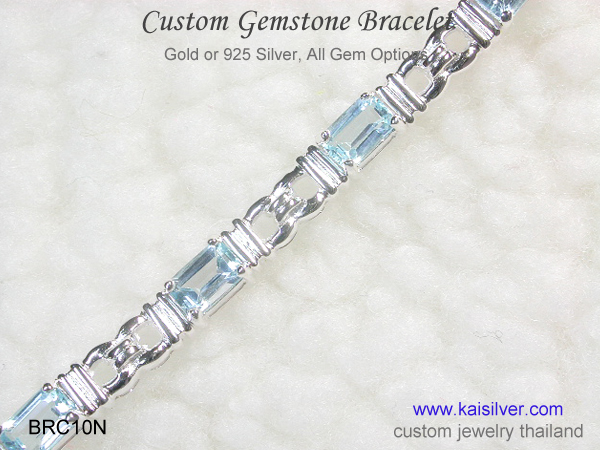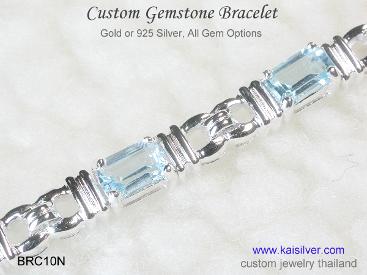 Another fact about most ready made bracelets is that, 925 silver bracelets are never given their due importance. It is sadly true that most jewelry compromise on design, gems and workmanship when making a silver bracelet. This at a time when fine jewelry buyers give high respect to the quality of a jewel irrespective of the metal. At Kaisilver you choose gold or silver, pick the design or send us your own, specify the gemstones required and we craft the bracelet for you. The important thing is that the same team of highly skilled artisans, gem cutters and quality inspectors work on silver and gold bracelets. So you need worry about quality issues, make your metal choice based on your budget and personal preference.
Kaisilver Custom Bracelet Highlights:
We can work with your design or you can choose one from our collection.
Both gold and sterling silver bracelets have the same quality standards.
Gemstone bracelets can have the gems of your choice, without any limitations.
You can choose to combine different gemstones in the same made to order bracelet.
All Kaisilver bracelets have good metal weight, this makes them long lasting.
How To Buy: Contact our experts at sales@kaisilver.com and let them know what you need. You can also send us images or sketches of your own design ideas. The team will guide you and make suggestions without pushing for a sale, we have no problem if you purchase nothing from us. What is important is that, you understand all details about the jewel that interests you. The production time required is around 4 to 6 weeks from the date of receipt of payment and order confirmation. Payments are accepted through Paypal and Western Union, we suggest that new buyers choose Paypal. Let us know the mode of payment that you prefer and we will provide details for the same.
A gemstone 1,000 times rarer than diamond, tanzanite is found in only one small patch of land on our planet. Kaisilver sources tanzanite directly from the miners at the foothills of Mount Kilimanjaro in Tanzania. Shown above is the 4 century old history claddagh ring. Review the Kaisilver Tanzanite Ring Collection ... more.
Custom men's rings in gold and sterling silver. These impressive men's rings have impressive looks and good durability. You can request for a custom men's ring to be made with your own design or, choose a design from our collection. Kaisilver men's rings have 40-60% more metal weight this makes them long lasting ... more.