Mens Claddagh Ring - Blue Topaz
A men's claddagh ring with a blue topaz gemstone, a perfect rendition of history's most meaningful jewel. Kaislver crafts gold and 925 silver rings for men and ladies with gems of your choice. Great care is taken to ensure that each ring, retains the features of the first cladagh ring made around 4 centuries ago. The MAN120 is a sturdy ring with good weight and makes for a comfortable wear. The center gemstone is a london blue topaz heart gem but, you have other options for your men's topaz ring too. Blue topaz gems can selected from three shades of blue, light (sky blue), bright blue (swiss blue topaz) and a darker (london blue topaz) blue as shown in the ring. Your cladagh topaz ring for men will be priced the same in all three shades of blue, you could also choose white topaz as the gem and stay within the same price bracket. We might add here that, you could order your claddagh gold or silver ring for men, with the gemstone of your choice. We also offer the option to have a ring made with just metal (gold or 925 silver) and no gemstone in the center. Since each ring is fully customized according to buyer requirements, we can accommodate requests for all ring sizes.
If you had to make a fair comparison between Kaisilver claddagh rings and those provided by our competitors, you would need to evaluate these features. The men's topaz claddagh ring in sterling silver will have a weight of around 18 to 22 grams. The 14k or 18k men's ring would have a weight range of 22 to 25 grams. While this might seem like being over extravagant, it helps to know that of the many factors that define the durability of a jewel, metal weight is significantly important. We do get requests for men's rings in huge US sizes like 12, 13, 14 or even 15 - in such cases, our team will let you know if additional metal weight is required to maintain the same level of durability. You can also let us know if you are very particular about keeping the inside of the band without any scooping. We normally try to do just that while remaining within the limits of the agreed metal weight.
The men's gold claddagh ring, can be ordered in 14k or 18k, white, yellow or rose gold. We can generally fulfill requests for 10k gold too, so let us know if that is your preference. You might be interested to know that, men's gold rings are generally ordered in 14k gold. Technically speaking 14k gold seems to offer the ideal balance between price, hardness and gold content. You can however choose the gold option based on what you like or your budget. The good thing about Kaisilver custom jewelry is that, you get the same quality of design, gems and workmanship for gold and sterling silver jewelry. Silver has always been the preferred choice for men's rings and this has become stronger in recent years. With 925 silver gaining high respect from seasoned quality conscious jewelry buyers, the demand for men's 925 silver rings has grown even more robust. One issue that gains importance when ordering a men's silver topaz claddagh ring is whether, to have the ring plated or leave it as it is. While this is a rather long story, here is the essence of the detail. Gold, rhodium or even platinum can be plated on silver but, all these and any other plating done on silver will not last forever. The ring will look awesome as long as the plating lasts but, when it starts to wear off - the ring would not look too attractive. Cleaning and polishing your men's silver blue topaz ring in silver after the plating has started to come off, is not easy at all. We would therefore suggest that you leave your silver men's ring un-plated, cleaning it will be much easier and getting off tarnish will be something that you can do on your own.
Claddagh Ring Meaning: We began this report by referring to the ring as 'history's most meaningful jewel', let us briefly explain this statement. When you wear a claddagh men's topaz ring, you should know that the claddagh legend began around four centuries. An Irish slave by the name of Robert Joyce first made the ring, the ring was supposed to show his true love for his beloved. The heart, hands and crown in the claddagh ring carried the meaning of his true feelings. The heart showed his love for her, the hands were meant to tell her that they would always be together. The crown signified his loyalty to his beloved, something that remained strong and true all through his ordeal as a slave. When the young man was eventually freed from slavery, he went right back to his village (named Claddagh) and gave the ring to his beloved. The couple were soon married and set up family together. It is important to know that love, friendship (togetherness) and loyalty are vital for every relationship and need not always imply a matrimonial affair. This is what makes the claddagh ring suitable for every occasion, it also makes an awesome gift for most occasions.
MAN120 Ring Highlights:
Same quality maintained for gold and sterling silver men's topaz claddagh rings.
Can be ordered in 10k, 14k, 18k white, yellow or rose gold.
Recommend silver ring to be left un-plated but, plating can be done if you wish.
The gold ring has a metal weight of around 22-25 grams.
The sterling silver mens claddagh ring has a weight of around 18-22 grams.
All gem options available even if, stone not listed in the price table.
Fine craftsmanship, handpicked and custom cut gemstones.
Each men's claddagh ring is fully custom made, all ring sizes available.
Etching of name or short message inside band can be done on request.
Gemstone size is 8-9mm heart shape, check price table for details.
Ring retains essential features of first ring made many centuries ago.
Kaisilver crafts claddagh rings for men and ladies.
Pricing: The price table below gives details of the price of the claddagh men's ring based on the gem and metal options. You can make a request for 10k white, yellow or pink gold and also let us know if, you need a gemstone not mentioned in the price table. There is an additional charge of 25 U.S$ for gold rhodium plating on the silver cladagh ring but, the plating will wear off after some time. Our support team at sales@kaisilver.com will be glad to help with any information that you need.
PRICING FOR RING WITH 8mm GEMSTONE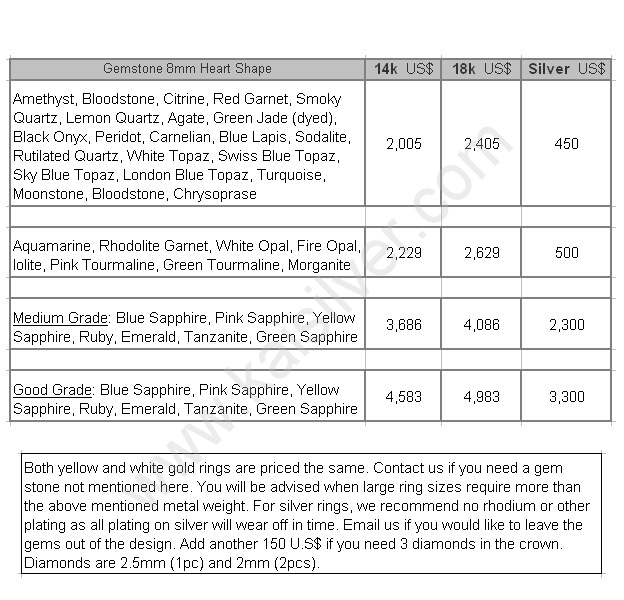 PRICING FOR THE RING WITH 9mm GEM OPTION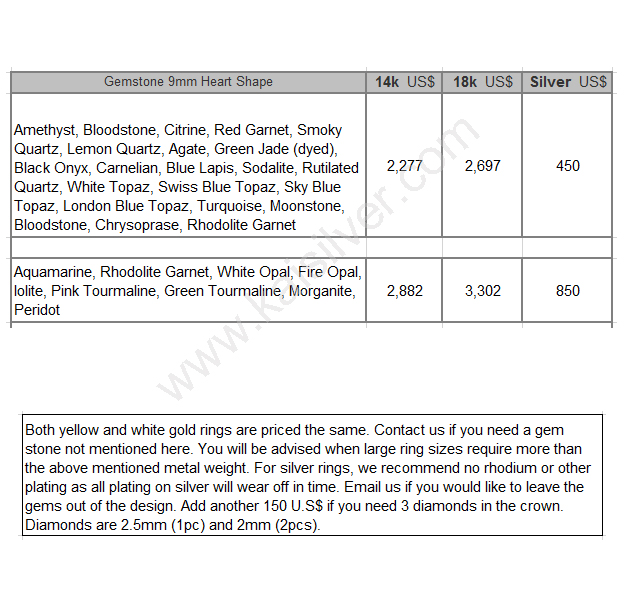 Ordering: To begin with, do not be in a rush to place your order and make a payment. We provide comprehensive details for every item on our website, you are most welcome to get your doubts and questions cleared through our support experts at sales@kaisilver.com The team that answers your email will be made up of jewelry and gemstone professionals, we do not hire smart talking sales staff to push buyers into making a purchase. Besides choosing from the designs on our website, you can also email us your design concepts to be custom made. All the items on our website can be crafted in gold or 925 silver with gems of your choice. It is also possible to customize features like gem shape, size and jewel dimensions according to your requirements.
Payment: We are not a quick click and buy online seller, we prefer that you get all your questions answered before coming to the payment stage. We accept payment through Paypal and Western Union but, recommend Paypal for first time buyers. We might consider other modes of payment like Bank Transfers but, prefer to discuss that case by case. Let us know the mode of payment that you prefer and we will provide details for the same.
Production and Shipment: Since each jewel is completely custom made and every gem custom cut, we require around 4 to 6 weeks for the production process - the time will count after payment has been received by us. Shipping will be through FEDEX with web tracking, you will receive the tracking number the moment the parcel ships. You can let us know if your preference for shipment happens to be a service other than FEDEX, we will consider your request for the same. In any case, it is unlikely that we will agree to ship through a mode that, does not provide a clear online web tracking service for both of us.
Kaisilver: We are the leading online custom jewelry provider from Thailand. Skilled craftsmen and expert gem cutters create each jewel with concentration and passion. Production experts and tight quality control measures ensure that, all jewelry is made to comply with the specifications agreed with the buyer. Over 20,000 jewelry lovers across the world trust us for all their high end jewelry requirements. Our commitment to quality for both gold and silver custom made jewelry, remains unmatched in the industry. With decades of experience in gem sourcing, we have direct access to over 200 million carats of gems and mining connections with sources across the globe. This allows us to an unlimited range of gem options to our buyers, you need not be limited to what you see on our website. We welcome design ideas from buyers and can, make just about any jewel that you fancy in gold or silver with gems of your choice.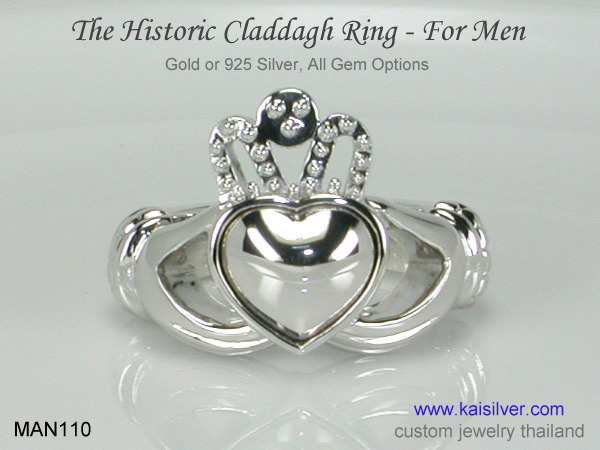 A handsome claddagh ring for men, this is a gold or silver ring with no gemstone. Custom made in all sizes, the MAN110 is sturdy and will last for a lifetime. Check out more details for this men's ring ... more.
A three gemstone ring for men, finely crafted by Kaisilver's top jewelry artisans in Thailand. Choose all three gems with no limitation. The same quality standards for the gold and silver ring ... more.