Amethyst Gemstone Jewelry
Amethyst the purple gemstone has a long and illustrious history. There was a time when the gemstone was very rare, most of it was mined in the Ural Mountains of Russia. We are indeed lucky that, larger amethyst resources were found in Brazil and a few other countries in South America. Amethyst is today priced modestly, it can be found in fairly large gem sizes. Kaisilver amethyst gemstone jewelry is designed and crafted by a highly skilled and talented team. You can specify the design for your made to order bracelet or, pick a design from our websites. Our expert team at sales@kaisilver.com will be glad to assist you with any queries related to gemstones and jewelry.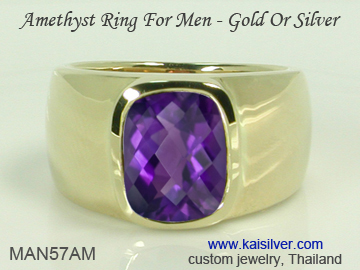 An imposing amethyst ring for men, a hefty metal weight and crafted in gold or 925 silver. You can order this heavy men's gemstone ring with the gem of your choice, both gold and sterling silver rings have the same quality standards ... more.
A sturdy amethyst bracelet made to order, pick any bracelet from the Kaisilver collection and request for it to be made in silver or 14k / 18k gold with amethyst gems. We can craft a custom amethyst bracelet with a design provided by you ... more.