The RG126n is a gorgeous claddagh sapphire ring, the jewel combines the 4 century old claddagh with a gemstone that has been treasured for centuries. When we talk about a sapphire ring, the presumption is that the gem is blue. This is no surprise since, the presence of sapphires in other colors was learnt very much later. While claddagh gold rings are generally preferred, it is important to understand that the meaning of and significance of the jewel, remains the same irrespective of the metal used. Kaisilver claddagh rings with sapphire or any gemstone of your choice, can be ordered in all sizes in gold or 925 silver. The same team of highly skilled artisans in Thailand, works on gold and silver rings - this ensures that the same superior standards are maintained for both metals.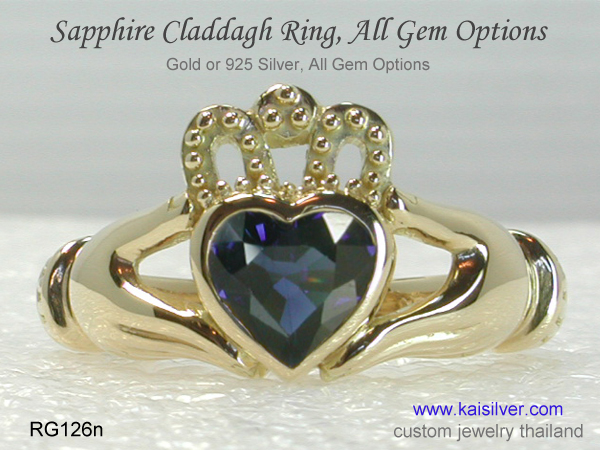 Claddagh Meaning: The fact that the claddagh ring is regarded to be one of the most meaningful jewels in history, makes it a favorite among seasoned jewelry lovers. Knowing the story and meaning of the claddagh sapphire ring, would make you better appreciate the jewel. Here is a brief write up on the topic. The claddagh ring was first made around 4 centuries ago, an Irish fisherman turned slave is credited with making the first claddagh ring. The young man made the jewel to express his true love for his beloved. The heart depicts love, the crown signifies loyalty and the hands show togetherness. The young man was Robert Joyce, he hoped to gift the ring to his beloved when was released from slavery. Years later his dream came true and he was a free man once again, Robert rushed back to his village carefully clutching the ring.He was thrilled to see that his beloved was still waiting for him. The couple embraced and Robert slid the ring on her finger. It was not long before they, were happily married and settled. The story symbolizes true love, loyalty and sacrifice. Kaisilver is credited with crafting, the finest rendition of the claddagh ring in gold or silver, with all gemstone options. Each Kaisilver claddagh ring is handcrafted by highly skilled craftsmen in Thailand. Each ring retains the complete meaning and significance, of the first ring made centuries ago. Read the complete [Claddagh Ring Story].
About Sapphire: The modern day jewelry lover is no longer satisfied by choosing a gem based merely on likes and preference - the trend is to learn more about a specific gemstone. The gemstone in a sapphire claddagh ring, can easily be valued more than the gold in the jewel, this is because sapphires are rare, gorgeous, tough and expensive. The RG126n sapphire ring is set with a natural certified sapphire gemstone. Sapphires have since ancient times, been heated to improve their color and transparency. Known as the 'conventional heat' process, this method does not reduce the durability or value of the gemstone. Certification from an independent third party, provides conclusive proof of the gem being natural and being heated. It is important to ensure that you get a natural sapphire for your claddagh ring, the gemstone should not be treated through any of the newer developed methods of treatment - we will tell you why in a moment. Gem traders have developed newer methods to treat sapphires, this process involves heating the gem with a few chemicals. Sapphires treated by this form of treatment are referred to as 'diffused' sapphires. These stones can appear gorgeous but they are worth, substantially less as compared to conventionally heated sapphires. Another form of treatment used to process sapphires significantly reduces the durability and value of the gem. Sapphires treated through this process are referred to as 'fissure filled' or 'glass filled' sapphires.
The above information provides vital information regarding the sapphire that, could be used to craft your claddagh gold or sterling silver ring. Our entire report presumes that the gem being provided is a natural certified sapphire that has been heated. We would like to say that there is nothing wrong in wearing a claddagh ring with a diffused or fissure filled sapphire - as long as you know what you are getting and are charged fairly for the stone.
We briefly mentioned sapphire colors in the first paragraph, here are some more details. You could order the RG126n sapphire ring in gold or silver, with a pink, green, blue or yellow sapphire gemstone. It does not matter if the gemstone that you prefer is not shown or mentioned on our websites, we can procure and custom cut just about any gem on this planet for you.
Claddagh Ring Metal: Your Kaisilver sapphire claddagh ring can be ordered in gold or 925 silver. The claddagh gold ring is available in 14k / 18k white, yellow or rose gold. And if you would like to have a 10k claddagh ring, we will send a specific price quote for your request. Just keep in mind that the value and hardness of white, yellow and pink gold remains the same - that within the 10k, 14k and 18k category. Now talk about a sterling silver claddagh ring with sapphire or any other gemstone. Talk about silver and you cannot but comment about tarnish, this is a natural phenomenon that occurs on all silverware including silver jewelry. Jewelers tell you that plating a silver ring, prevents the formation of tarnish - that is just half the truth. While a plated silver claddagh ring will look awesome when new, the plating will wear off (in patches) over time. This dulls the look of the ring you would soon prefer not to wear it. Cleaning such a silver ring would not be possible as, you have a surface that is partially plated and partially not. We recommend that your silver claddagh ring be left unplated. The idea is to clean the ring with any commercially available, silver cleaning fabric or lotion - the moment tarnish sets in. We leave the decision to plate or not plate up to you, let us know your choice and we will proceed accordingly. You can always contact our experts at sales@kaisilver.com for any clarifications or advice that you might need.
PRICING AND OPTIONS FOR THE RG126n CLADDAGH RING
Rings are available in all sizes and with all gemstone options. White, yellow and pink gold rings are priced the same. Request for a price quote if you prefer to have a 10k claddagh gold ring. We would suggest that silver claddagh rings be left un-plated however, plating can be provided at no extra charge.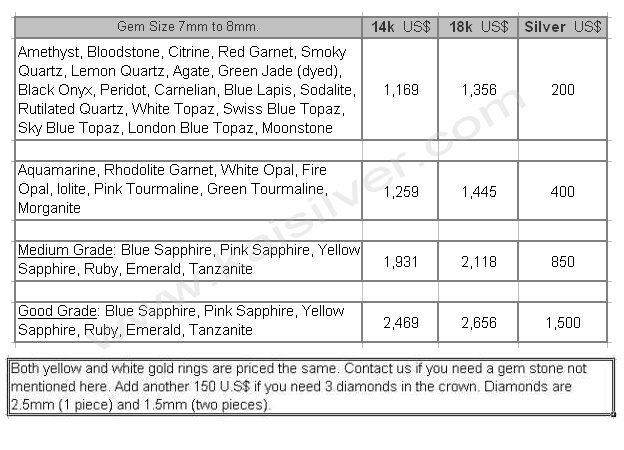 Quick Tips: You could wear your claddagh sapphire gemstone ring to work everyday or treat it as a special occasion jewel. Sapphires have historically symbolized truth and loyalty, these qualities form the foundation of any serious relationship. This combined with their precious value and rarity, have made the gemstone very popular when it comes to wedding and engagement rings. You can also choose the claddagh ring with your birthstone, sapphire happens to be the birthstone for the month of September. The love implied by this special heart ring is not limited to matrimonial love. You could gift an exquisitely handcrafted claddagh ring in gold or silver to your loving mom - pick her favorite gemstone, or request for her birthstone. Since the Kaisilver gold and silver claddagh rings, retain the complete meaning of the jewel first made centuries ago - pick your metal choice based on what you like and your budget.
RG126 Claddagh Gold/Silver Ring:
Expert artisans in Thailand handcraft gold and silver rings to the same superior standards.
The gemstone is a 7mm heart shaped sapphire - natural and certified gemstone.
The ring can be ordered with the gemstone of your choice. No limitation on gem selection.
Sapphire gems can be - pink, green, yellow or blue sapphire.
The claddagh gold ring is available in 14k/18k white, pink or yellow gold.
Pricing for the 10k gold claddagh gemstone ring can be provided on request.
The minimum metal weight for the ring is 10 to 12 grams. Larger rings weigh more.
There is an option to add 3 diamonds in the crown - 2.5mm (1 pc) and 2mm (2pcs).
All design modifications are possible, ring can be crafted based on your design concept.
How To Order: Never be in a hurry to confirm your order. Discuss all your requirements with the team at sales@kaisilver.com making sure that, all your questions have been answered. There is no limitation on design or gemstone, we will gladly craft your sapphire ring with your unique design idea. There is a production time of 4 to 5 weeks from the date of order confirmation and payment being made. We recommend payment through Paypal as it is safer for you and us - Western Union is also an option but, not recommended for first time buyers. Let us know which mode of payment you prefer and we will email details for the same.
Who Is Kaisilver: The leading online provider of high end custom made jewelry, Kaisilver crafts all types of jewelry with no restriction on design or gemstone. Custom jewelry handcrafted in gold or silver has the same superior quality standards. Over 12,000 clients across 15 nations proudly wear jewelry crafted by our highly skilled artisans in Thailand. Being networked to gem miners and cutters on every continent, we get preferential access to over 200 million carats of gemstones. This ensures that you get the best gem for the money that you invest. Our support experts at sales@kaisilver.com will be glad to clear any doubts or questions that you might have. If you prefer to discuss your requirements on the phone, leave detailed requirements, your phone number and location in the email. Let us know the time suitable for you to receive the call. We will match time zones and assign an expert to call you - all at our expense.