Men's Ring With Tanzanite
Tanzanite is one of the most exotic natural gemstones that nature has bestowed on humans. Kaisilver men's tanzanite rings showcase the gorgeous violet-blue gem in a range of durable and expertly crafted rings. Experts agree that tanzanite is at least a 1,000 times rarer than diamonds. Found in just one small stretch of land at the foothills of Mount Kilimanjaro (Tanzania), the gemstone has remained hidden from humans for millions of years. As compared to diamonds, rubies and sapphires, which have been known for centuries - Tanzanite was first discovered as recently as 1967.
Kaisilver men's tanzanite rings can be ordered in gold or sterling silver, the same high standards are maintained for both metals. You have a choice of 10k, 14k and 18k gold in yellow, white or pink gold. There is no limitation on design, metal or dimensions or the gold or 925 silver tanzanite ring for men. You can choose any men's ring from our website and request, for it to be crafted with a tanzanite gem. We can also custom make your ring with a design provided by you. Our experts at sales@kaisilver.com will be glad to provide any suggestions or advice that you might need.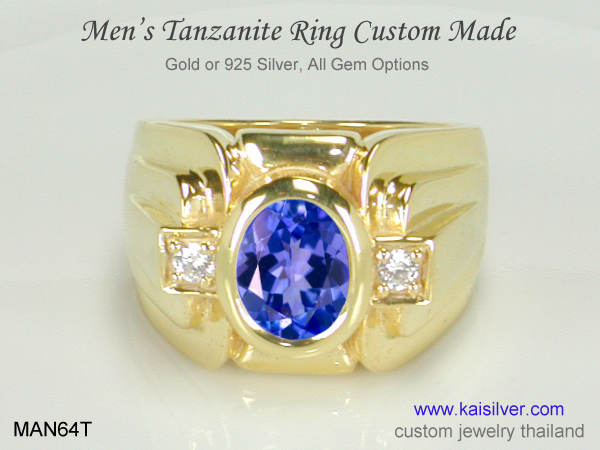 A majestic tanzanite ring for men, you can order the ring with a darker violet tanzanite gem or pick, any gemstone of your choice. The MAN64T men's tanzanite ring is durable and provides excellent protection to the oval tanzanite gemstone in the center ... more.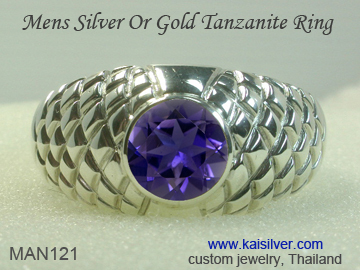 Shown as a sterling silver men's ring with tanzanite, the MAN121 can also be ordered in 10k, 14k or 18k white, yellow or rose gold. Available in all ring sizes this men's silver tanzanite gem ring can made with no texture on the surface, the decision is yours ... more.
If you love men's rings that are not very broad or bulky, the MAN61 tanzanite diamond ring is for you. The ring is designed to give you a super luxury look with a good metal weight, a custom cut certified natural tanzanite and a row of square diamonds on either side ... more.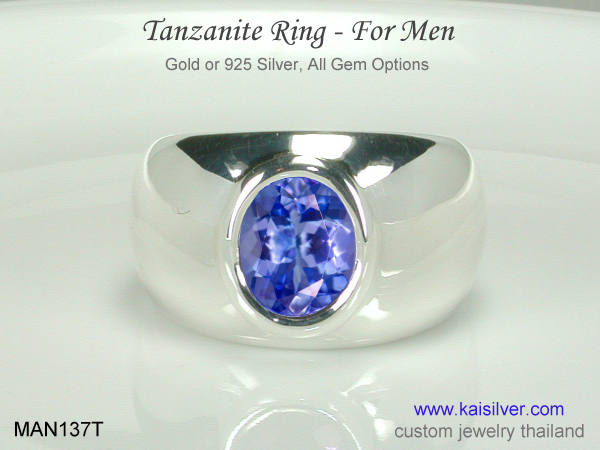 A white gold men's ring with tanzanite or any gem of your choice. A simple elegant design, a confident look and a very sturdy gold or silver ring. The MAN137T tanzanite men's ring is available in white, yellow or pink gold, you can also request for 925 silver ... more.
When talking about tanzanite rings for men it is important to understand, how the price (per carat) of tanzanite rises as the gem sizes increases. Men in general, love to wear men's rings with large gems. This is something that could make tanzanite men's ring quite expensive. It is therefore important to have the budget in mind and then, pick a design that has a tanzanite gem that is not very big. In general we would suggest a tanzanite gem size in the 2 to 3 carat range, for most budgets. Procuring rough tanzanite from the miners in Tanzania, Kaisilver ensures that every piece is meticulously custom cut to fit, the high end jewels that we craft.
With no middlemen involved in the process, you as a buyer are assured of getting the best tanzanite gem at every price point. Men's rings with tanzanite cannot be cheap and it is important that, you get the maximum material value for what you pay. Keeping the entire production process for every tanzanite men's ring in our workshop, we work on very reasonable profit margins - no brokers, middlemen and agents. Kaisilver jewelry is crafted in Thailand where a team of artisans, gem cutters, designers and production experts, work with passion to deliver world class quality at a fair price.
A tanzanite men's ring from Kaisilver Thailand can ship across the globe, we today serve over 12,000 quality conscious gem and jewelry lovers in 15 nations. The same premium quality standards are maintained for tanzanite gemstone rings for men or, for any other Kaisilver jewelry - ordered in gold or silver. While a ring with tanzanite would be easier to maintain when crafted as a 10k, 14k or 18k tanzanite gemstone ring - we can craft the ring for you in sterling silver. Our experts will advise you on cleaning and caring for a men's silver tanzanite ring. The general trend is to go for 14k men's rings, this applies to tanzanite rings for men too. While Kaisilver offers options for 14k, 10k and 18k gold rings, the 14k option delivers the right balance between, gold content and metal hardness.
You could pick any men's ring from our websites and request for it to be crafted, with tanzanite and specify gold or silver as the metal option. Since each Kaisilver gold or silver ring is fully custom made, all design modification requests can be accommodated. And if you have any specific design in mind for your men's tanzanite gemstone ring, send us the image or describe your concept to us. We will work together on finalizing specifications and pricing.
Men's gold rings until a decade ago, were almost always worn in yellow gold. The notion that white gold is less sturdy as compared to yellow gold or that, white gold was too dainty looking for men, no longer exists. Men have become more conscious of the jewels and gems that they choose, they are demanding quality and options - rightly so. You could order a yellow, white or even a pink gold Kaisilver men's ring today - also specify 10k, 14k or 18k for the ring. Tanzanite pairs well with all metal colors, so let the decision of gold color for a men's tanzanite gem ring be based on your choice.
Every tanzanite gem used in Kaisilver jewelry is natural and certified as such, by an independent gem testing office. Your tanzanite men's gemstone ring will come with a certificate that makes, specific reference to the gem in that ring. Most jewelry lovers are not aware of the importance of certified gems, this unfortunately is taken advantage of by many jewelers. We at Kaisilver remain committed to serving our clients with authentic and high end jewelry - both in gold and silver.
How To Order: Kaisilver high end custom made jewelry is best ordered, by discussing your requirements with our experts at sales@kaisilver.com - do not be in a rush until, you have all your questions answered. Each item on our websites whether it happens be a men's ring or any other jewel, has a unique item code. Make reference to the item code, specify gold or silver, your gem preference and any related size details that you might have. The men's tanzanite rings shown on this web page are picked as examples, you could choose just about any Kaisilver ring and order it as a tanzanite ring in gold or silver. Also remember that, you could send us your own design ideas to be custom made.
There is no limitation on gemstone, design or size when you order jewelry from Kaisilver Thailand. The gold or silver weight in the ring, would depend on the dimensions, designs and ring size. In general Kaisilver jewelry, weighs around 40% to 60% more, as compared to what other jewelers would provide. While this does add to the price tag it also, ensures a higher level of durability and wearing comfort. Lighter jewels might be cheaper in the short term but, they will ultimately bend, dent or deform more easily. This is something that you should keep in mind when comparing, the price of a Kaisilver men's tanzanite ring with that sold by any other jeweler.
Who Is Kaisilver: The leading online high end custom jewelry provider based in Thailand, Kaisilver today serves over 12,000 gem and jewelry lovers across 15 nations. We have remained the preferred choice for fine jewelry - for over 2 decades. Kaisilver crafts all types of jewelry including rings, pendants, earrings, cufflinks, bracelets and bangles - gold or silver, your designs or ours.
Networked to gem mining operations globally, we have preferential access to over 200 million carats of gemstones. This is precisely the reason why, we place absolutely no restrictions on your gem selection. The gem that you select need not be mentioned on our websites, we will gladly source a gem from any point on the planet for you! Kaisilver is one of the very few high end jewelers to, maintain the same superior standards for both gold and silver jewelry.
We welcome your queries and comments at sales@kaisilver.com and will be glad to assist you in any way that we can.