Men's Gold Or Silver Tanzanite Ring
Men's preference for sterling silver over gold has been in existence for a couple of decades. With gold giving a statement of flash and extravagance, men have preferred to patronize the calm and confident look of silver. But if you talk about a tanzanite silver ring for men, expect to receive some strange stares. The general convention is that expensive gems like ruby, sapphire, emerald and tanzanite should be reserved for gold! Kaisilver has always given equal importance to design, craftsmanship and gemstones irrespective of the metal selection - we continue to follow that policy as it works to the advantage of the buyer. If you plan to go for a sterling silver tanzanite ring make sure that, you are not dumped with a bag full of compromises. The MAN121 silver tanzanite ring for men is a high end custom made jewel. Highly skilled artisans work on each ring and gem experts custom cut every gemstone, no attempt is made to push close out and low grade stones just because, the choice of metal is silver and not gold or platinum.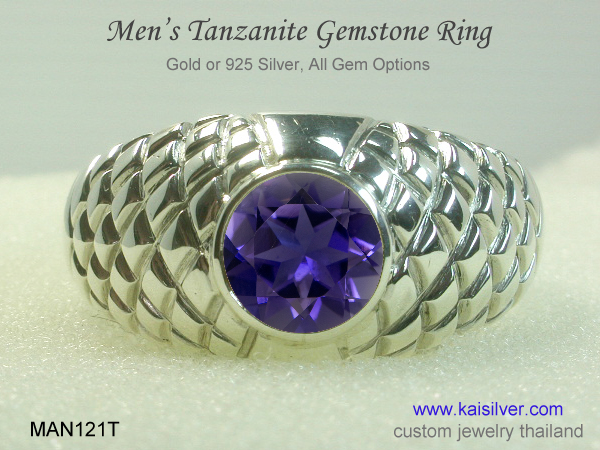 MAN121 Ring Highlights:
Custom made in gold or silver, with good craftsmanship and handpicked gems.
Sturdy and secure gem setting, bezel set to give protection to the gemstone.
Gem set with a low profile, less protrusion so less chance of damage by physical impact.
Gold options include 14k or 18k, white, yellow or rose gold.
Request for 10k gold option price quote.
Recommended that, sterling silver tanzanite ring be left unplated.
Good metal weight of 20 to 22 grams, could be more for very large ring sizes.
7mm round tanzanite gemstone, medium and good grade options.
Head height of the ring is approximately 12mm (1.2cm).
Width behind finger is around 5mm (0.5cm).
Shown with criss-cross texture on the metal, can be left plain or with texture of your choice.
All gemstone options, not limited to what is shown on our website.
Fully custom made so ring design, dimensions and texture can be personalized.
Custom made in all ring sizes, including half and quarter sizes.
Tanzanite Gemstone Highlights:
Tanzanite is a gorgeous violet-blue gemstone, light to dark shades available.
Medium color saturation is best to show the luster and beauty of tanzanite.
Mined in just one stretch of land on the foothills of Mount Kilimanjaro, Tanzania.
About 1,000 times rarer than a diamond.
A modern gem, first found in the year 1967 - nature's well kept secret.
Rough tanzanite is a murky greenish-yellow color, the stone is heated to reveal the scintillating violet and blue colors.
Kaisilver procures rough tanzanite directly from the miners and does the custom cutting in-house.
The color of tanzanite ensures that, it looks awesome in all metal colors - white, yellow and pink.
The gemstone was added to the list of December birthstones in the year 2002.

Now let us elaborate a bit on some of the features mentioned above, this information will allow you to request for design changes to suit your liking. The image shows a MAN121 silver tanzanite ring for men but, you can order the same ring in 14k or 18k gold too. The violet blue color of tanzanite is such that, it looks awesome in all metal colors and the gold tanzanite ring gives you options for, white, yellow or rose (pink) gold. Buyers normally expect fine gold jewelry like that crafted by Kaisilver, to have a minimum 14k gold content, we therefore provide a choice of 14k or 18k gold. However if you like the design concept for this silver tanzanite ring but, prefer to have it crafted in 10k gold, let us know and we will work out a specific price quote for you. The metal weight for your tanzanite ring might have to be increased if, the ring size is very large and also if, you are very particular of having a solid ring with no scooping inside the band. While the additional metal weight would not add cost to a silver men's ring, our support experts will let you know if your tanzanite gold ring requires any additional charge for an increase in weight.
Our suggestion for the men's silver tanzanite ring as mentioned above, was to leave the ring un-plated, here is a complete explanation on that issue. Many jewelers prefer to plate silver jewelry with rhodium, yellow or rose gold or even platinum - they claim that this process prevents the silver from tarnishing. While the plating does prevent the surface of the silver from being exposed to various tarnish causing agents, it (the plating) will wear off after some time. Once the plating on your sterling silver tanzanite ring for men begins to wear off, the ring will appear patchy. Cleaning and polishing such a ring will not be easy. Leave the silver ring unplated and you can surely do the cleaning on your own. This is the reason why we recommend that 925 silver jewelry be left unplated. If you still need the plating to be done on your tanzanite 925 silver ring, discuss your requirements with our team.
We have had many buyers requesting to have this ring design for a pinky finger ring. It does appear a bit lavish and extravagant to wear a tanzanite ring on your smallest finger but, we are always glad to accommodate your requests. You would surely want the silver tanzanite ring on your pinky finger, to be comfortable to wear. Keeping this in mind, we normally suggest for these smaller size rings, to be crafted with a 5mm to 6mm round tanzanite gem. This change allows the rest of the dimensions for the ring to be optimized for the small size.
The MAN121 sterling silver tanzanite gemstone ring is shown with a texture on the metal, we refer to this as the criss-cross pattern. You can request for any other pattern to be rendered on the metal surface of your ring, here are some suggestions. A slight hammered finish, a pebble texture, a tree bark pattern or even a plain high polished finish with no pattern. Skilled artisans work on each tanzanite ring, we can therefore craft the ring with your preferences and this is irrespective of the metal that you choose.
Here is a short note about caring for your men's tanzanite gemstone ring. All Kaisilver jewelry is made with researched designs that include, built in features to enhance their durability. Having said that, there a few things that you should keep in mind when wearing any jewel. Firstly, avoid wearing your tanzanite silver ring in conditions where it can get hit by physical impact - take off the ring when doing tasks like, exercising, repairing the fence or car, painting the house etc. You should not be exposing your tanzanite jewelry or any other jewel, to strong chemicals, detergents or solvents. In general it is a good idea, to avoid using ultrasonic cleaners for tanzanite jewelry or any other jewel. The only exception would be when, the jeweler doing the cleaning is knowledgeable enough to affirm that the instrument will not damage the jewel.
We now explain a few details related to your silver tanzanite men's ring, these take the characteristics of the metal into consideration. Allowing silver to tarnish for a long time, can give it a dark and stubborn tarnish, it is not uncommon for professional help to be required at that point. To keep things easy, just wipe your silver ring with a soft and moist cloth once in a while. Rinsing can be done in clean water at room temperature using a tiny amount of mild liquid soap. Make use of a soft toothbrush to clean the portion behind the gemstone, do not use this toothbrush for any other purpose. You can use a recommended silver polish lotion or fabric to polish your tanzanite sterling silver ring, but try to avoid getting the fabric or the material on the gemstone. No matter which method you use to clean the men's silver ring, thoroughly rinse the jewel in clean, plain water to take off any residue that might be stuck to the gem or the metal.
Pricing And Metal, Gemstone Options For The MAN121 Men's Tanzanite Ring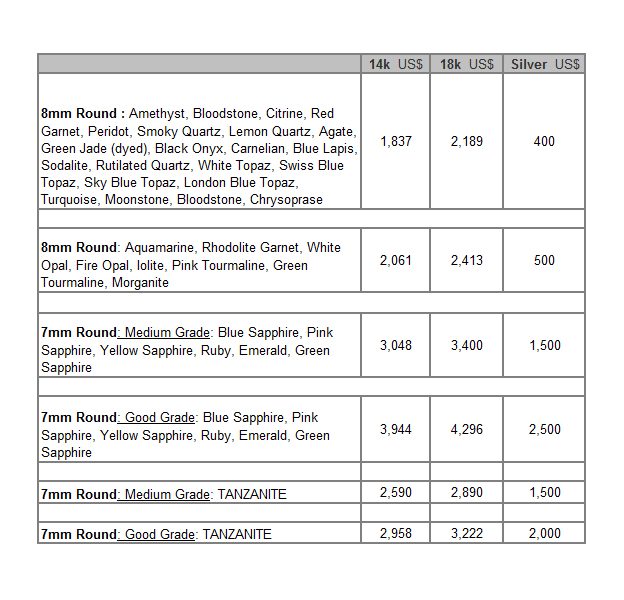 Buying: If you wish to buy this tanzanite men's silver ring or any other jewel from Kaisilver, we would suggest that you first discuss your requirements with our support experts at sales@kaisilver.com Do not be in a hurry to pay and confirm the purchase until, you have received complete and clear answers to all your queries. Once you have all the information, you can proceed to confirm the order with payment. We accept payments through Paypal and Western Union but, recommend Paypal for first time buyers. We will also consider accepting payment through Bank Transfer on a case by case basis. Let us know which mode of payment you prefer and we will provide details for the same.
Production is 4 to 6 weeks from the date of order confirmation and receipt of payment. Shipping will be done through FEDEX with web tracking and there will be a charge of 35 U.S$ added to the above quoted prices. The support team will mention all information related to shipping including the charges when, they reply to your email. You will be provided with the tracking number, the moment the parcel ships.
Kaisilver: Widely accepted as one of the leading only custom made jewellery providers, we craft all types of jewels in gold or 925 sterling silver with your choice of design and gemstones. More than 7,000 style conscious jewelry lovers across the globe proudly wear, jewelry crafted by the expert artisans at Kai Silver. Gems are procured directly from mines spread in all corners of the world and custom cut, by our highly skilled gem cutters. Around a dozen leading gem dealers from 5 nations, give us preferential access to more than 200 million carats of cut and polished gemstones. It is this gigantic base of resources that, makes it possible for us to place absolutely no limitations on your choice of gems. You can pick a jewelry design from our website and request for modifications or, send us your own design images and sketches to be custom made.
A sturdy tanzanite diamond ring in gold or 925 sterling silver. The diamonds can be replaced with gemstones of your choice. The design is developed for a frequent wear ring with the gem, being firmly set within a border that is a bit raised above the surface of the cushion tanzanite. Perfect for a men's tanzanite wedding ring, you could also choose any other gem instead of tanzanite for the gem. A complete report on the MAN61 tanzanite ring for men can be read at ... here.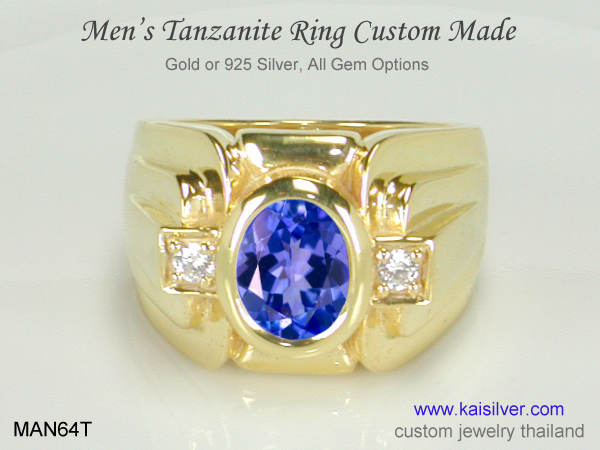 A handsome gold or silver tanzanite ring for men, an awesome jewel with a stylish design and impressive dimensions. A 2.5mm round diamond is encrusted on either side of the center oval tanzanite gemstone. You get the same fine workmanship and gem quality for the silver or gold men's tanzanite gem stone ring. The bezel set gemstone is set firmly in place and also protects, the border of the gem from side impact. Available in all ring sizes, read more details for this men's ring ... here.