Diamond Engagement Ring For Men
A diamond engagement ring for men but, equally suited for women with a slight reduction in band width. We saw an increase in men's matrimonial jewelry, the initial trend was to skip a men's engagement ring and wear a ring just to mark the wedding. Irrespective of the whether that practice was being followed for economic reasons or, just because men did not like the idea of flashing two rings on their fingers - Kaisilver stylists feel that a single men's ring to mark a wedding and engagement is absolutely fine. A men's diamond engagement ring is a great idea as long as, you need not shoot way beyond your budget. Then continue to wear the same ring for the wedding. The bride-to-be invariably wears an engagement ring, it is therefore a nice idea to shop for 'his and her' wedding rings together.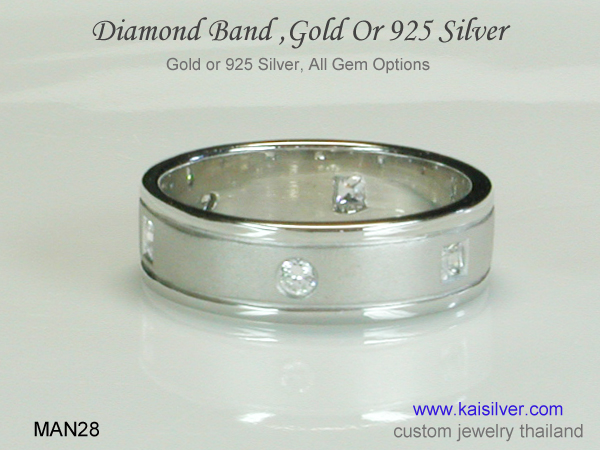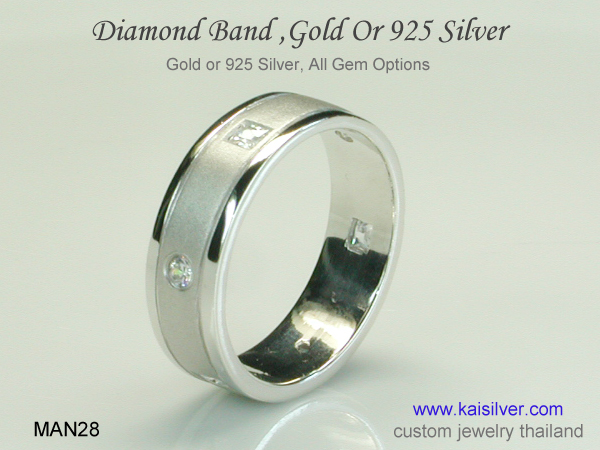 Diamond Rings
The MAN28 diamond band ring for men has a solid band, no scooping of metal (gold or silver) done inside the band. This is the foundation of a sturdy and durable ring. The ring shown here is a 14k white gold diamond band, you could order the same ring in 14k / 18k white, yellow or pink gold or sterling silver. Let us stay on the topic of a white gold men's band with diamonds. Diamonds are still very popular in engagement rings, this for both men and women. There is too much history and tradition attached to these spectacular natural creations - you just cannot ignore them for a special occasion like an engagement or wedding. White symbolizes purity and truth, it was thought for thousands of years that diamonds are always white. That belief was later put to rest by scientists. Wearing a white gold diamond band, adds a significant amount of tradition to the ring. A white gold ring casts a neutral color cast on the diamonds, this gives the jewel and the diamonds a brighter look. Let us quickly say that, a men's white gold or yellow gold diamond ring would have the degree of hardness. The degree of hardness of he metal basically depends on the 10k, 14k or 18k rating.
Diamond Ring
The ring has round and square diamonds, equally spaced out all around the ring. The diamonds will be 3mm in size, it is important to understand that, a 3mm square diamond weighs more than the 3mm round diamond. The configuration of the men's engagement band as shown here, has 3 round and 3 square diamonds. You could order the same men's diamond band with all round or all square diamonds. The price for various options would be worked out based on specific requirements. You will often hear the statement that, Kaisilver jewelry can be ordered with an unrestricted choice of gemstones. The same applies to this men's engagement band - you could request for some or all of the diamonds to be replaced with gems of your choice.
MAN28 BAND RING ALL DIAMOND - PRICING
MAN28 RING GEMSTONE OPTIONS AND PRICING
You could mix any gem combination in your ring, also possible to mix diamonds and gemstones. It is possible to use larger gems, this would increase the band width. You could request for a band ring with all round or all square gemstones. We can even craft a band ring for you with your own design idea or concept.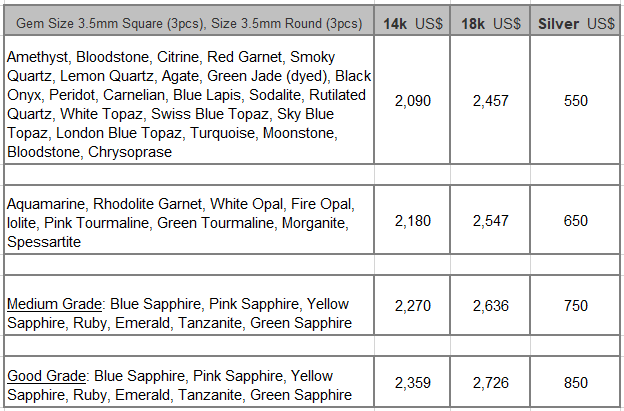 Width Of Diamond Band
An interesting feature about men's diamond engagement rings is the band width of the ring. With demand for a similar design concept for 'his and he rings' the MAN28 ring should be a leading choice. Just remember that the band width of this engagement diamond ring, would be influenced by the size of the diamonds. With the 3mm round and square diamonds as shown in the image, the ring has a band width of around 7mm to 8mm. This is perfect for a men's diamond band which should ideally be in the 7mm to 9mm range. While we have absolutely no problem in crafting even a 10mm or bigger band width, such rings could feel a bit uncomfortable as you go about your daily routines. Women generally go for engagement or wedding bands, with a band width between 5mm to 7mm. Remember that keeping the design concept similar in 'his and her' rings is fine, the metal color, gems or diamonds could be different. We invite you to discuss your requirements with our expert team.
Diamond Quality
A short note about the diamond quality provided for the diamonds in this men's engagement band. The basic requirement for a good diamond ring is that, the diamonds be natural and not man made or lab created clones. So rest assured that the diamonds in our jewelry, are all natural. Without boring you with technical jargon, here is a quick wrap up of what you need to know. There are 4 C's that define the quality of a diamond - color (in our case white), cut, clarity and carat (weight). Cut can be extremely complex to understand here are the essentials - you could have single cut or full cut diamond. A single cut offers lesser glitter and sparkle, the diamonds in this men's diamond engagement ring are full cut. Diamonds are cut to very exacting proportions so the diamond size, that we mentioned earlier on in this report, will ensure that you get what you pay for. We now come to clarity and color which in our case would be the degree of 'whiteness'. Commercially diamonds are available in various grades of clarity and color, the lowest on the scale would be chalky, dull and highly included diamonds. The lower range of color could display a yellowish white tint - or even grayish black because of the high degree of inclusions. On the top end you have top quality diamonds that are super white, even if tested with sophisticated optical sensing instruments. These would also be super clean even if, seen under a magnifying loupe. Now the price difference between the lowest and highest grades, would be massive - probably 1:500 or more. As you move up the scale, the price difference keeps reducing but, can still be considerable. So what exactly would be the quality of diamonds that, we pick for your men's band. Our diamond experts, meticulously check and pick diamonds that look white and glittering to the human eye. The simple logic is that, almost no one would inspect your diamond engagement band with specialized gemological apparatus. The technical details of the diamond would be specified as color I-J and clarity VS2. And if you wish to go for a higher diamond grade with a budget to match, let us know and will work on specific price quote for you.
Diamond Ring Durability
To start off, any jewel should not be exposed to strong chemicals or detergents - it should also not be exposed to locations where it could be struck with physical force. Not all diamond bands are durable and the degree of durability can be vary significantly. So let us tell you about the advanced features that we have built into the MAN28 men's engagement band. The most important feature is the solid metal (gold or 925 silver) band, there is no metal scooping done inside the band. The ring has been assigned an optimal metal thickness - ensuring that it would not bend or deform easily. Such a diamond band would also be more comfortable to wear. The diamonds in the ring do not significantly protrude from the surface of the ring, this obviously keeps them safe. This despite the fact that, diamond happens to be the hardness natural material on earth. Observe the edges of the band, they are configured to be a bit thicker than the rest of the band - this again to ensure that the edges do not appear worn out after being worn for a while. The metal weight assigned to this engagement band is mentioned in the ring highlights below, that is the standard weight but can change. The metal weight required for larger men's diamond rings, could be more than the standard. You will be informed if this is the case with your ring, before the order confirmation stage. Like all other jewelry from Kaisilver, this men's engagement band can be ordered in gold or 925 silver. The cost of additional metal weight requirements will be born by us for the silver ring, it will however be added to the price tag for gold rings.
Gold Or Silver Diamond Band
Being one of the very few jewelry providers to maintain the same quality standards for gold and silver jewelry, Kaisilver can craft this men's diamond ring in either metal. The men's gold diamond ring can be ordered in 14k or 18k gold and you can choose white, yellow or pink gold. If you wish to have a men's 10k diamond ring, request our support team for a price quote. When you talk about the silver diamond ring, we would suggest that no plating be done on the ring. While it is true that rhodium, gold or even platinum plating does provide an anti-tarnish effect - the point is that this is a temporary happening. Any plating done on silver using any type of process will wear off with time, and this will happen in patches. At that stage any type of polish, will not be able to restore the ring to its original condition because, some portions of the ring would be plated and some not. A better way would be to keep the silver diamond band un-plated, cleaning and polishing would then be easily done. The secret to cleaning tarnish on 925 silver jewelry is to do it, the moment tarnish begins to appear. Leaving tarnish to develop, can make it stubborn and the cleaning would require professional help.
MAN28 Ring Highlights:
The men's engagement or wedding band can be ordered with diamonds or gemstones.
You can combine diamonds and gems in the ring, with no limitation on gem selection.
Custom made in 14k and 18k white, yellow or pink gold, also available in 925 silver.
The men's gold diamond ring can have a high polished or dull finish.
The MAN28 as shown in the images, has 6 diamonds size 3mm (3 round and 3 square).
The diamond grade recommended is I-J and VS2. Custom grade options are available.
The diamond weight with the sizes and number mentioned above is around 0.85 carats.
We can also craft the same gold or silver ring with, all round or all square diamonds.
Each ring is finely handcrafted in Thailand by highly skilled jewelry craftsmen.
You can request for higher grade or larger diamonds for your men's diamond ring.
The band width of the ring is around 7mm to 8mm, the minimum weight is 20 grams.
We recommend that the men's diamond band has no scooping inside the band.
Larger ring sizes can call for an additional metal weight. We will inform you about this.
The ring is made to order in all sizes, all requests for design modifications can be accommodated.
We can also craft a men's diamond ring or any other jewel, with design details provided by you.
How To Buy: It is never a good idea to buy a high end jewel in a rush, take your time and discuss your requirements with our experts at sales@kaisilver.com Give details of your requirements and let them come up with suggestions. Ask as many questions as you wish, do not be tied down about ordering before you have all the information. We have absolutely no problem if you order your men's engagement ring from another jeweler, all that we will focus on doing is to provide you complete information to make the right decision. You could discuss gem options, design modifications or even send us an image or sketch of your own design. We can also call you on the phone (at our expense) to discuss details. If you wish to have us call you, include details, your phone number, location and suitable time in the email. We will have an expert prepare for the call and call you at the specified time.
There is a production time of 4 to 5 weeks from the date of order confirmation and receipt of payment. Payment is accepted through Paypal, we highly recommend this option as it is safer for you and us. We will also accept Western Union if that is something that you feel comfortable with. Let us know which mode of payment you prefer, we will email the relevant details.
Who Is Kaisilver: The leading online high end custom made jewelry provider, Kaisilver today serves over 12,000 clients located in 15 countries. We craft all types of jewelry including rings, earrings, pendants, chains, necklaces bracelets, bangles and even cuff links - in gold or sterling silver. The design can be yours or ours and there is no restriction on gem selection. Being networked to almost every big gem mining and cutting operation globally, we have preferential access to over 200 million carats of gemstones. You can rest assured that we consistently, provide the best gemstone at every price point. Contact our experts at sales@kaisilver.com with any queries that you might have, we will be glad to help even if you do not make any purchase from us.