The PG100 garnet pendant is shown as yellow gold pendant with a red garnet gemstone. You could order this pendant in gold or silver, rest assured that both metals will be finely handcrafted to the same premium standards. While 14k pendants are very popular, we allow options for 10k, 14k and 18k gold - you can also choose from pink, yellow or white gold for your pendant. The idea that all garnets are red, was proved wrong centuries after people first came into contact with red garnet. We now know that garnets are found in a range of colors like red, raspberry red (rhodolite), green (tsavorite and demantoid), and orange to a deeper brandy orange color (spessartite). We place absolutely no restriction on the gem that you can choose for your gold pendant. We can procure and custom cut, just about any gem from any part of the planet for you.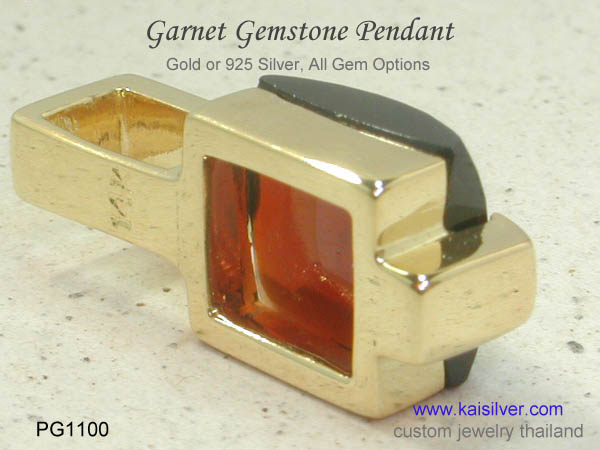 The design of this gold pendant is suitable for both men and women, the dimensions of the pendant and gemstone can be modified to suit your requirements. If you plan to use the design of the PG1100 for a men's pendant, remember to request for larger dimensions. You could go for a large pendant with the same design and then request for sterling silver, this would moderate the price of the gemstone pendant.
Take a look at the images of the PG1100 pendant, the gem has a special checkerboard cut on the top. This is the cut that provides good surface glitter as, the surface is abundantly faceted. This is a special type of cut suitable for, modestly priced gems. In the case of higher priced gems like ruby, sapphire, tourmaline, emerald, tanzanite, spinel, aquamarine etc, we would suggest that you go for a conventionally cut gemstone. The checkerboard cut is more suited for gems like red garnet, blue topaz, citrine, amethyst, smoky quartz, peridot etc. Our team of experts will be glad to guide you on gem selection, size, shape, cut etc.
PG1100 Pendant Highlights.
The garnet pendant can be ordered with a 7mm - 8mm size gemstone or a large 15mm gem size. The price, dimensions of the gold or silver pendant and metal weight, would be influenced by the gem size.
The size of the diamond in the pendant is a 2.5mm round. You can let us know if you need a larger 3mm round diamond or any other gem instead of the diamond.
With a 7mm - 8mm gem size, the pendant will have a total length of 20mm or 2cm. The weight of the pendant will be around 8 to 10 grams.
The same gemstone pendant with a 15mm gem size, would have a total length of 30mm or 3cm. The total weight of the pendant with this gem size would be 12 to 15 grams.
The gold pendant can be ordered in 10k, 14k or 18k gold - let us know if you prefer pink, yellow or white gold for your pendant. The same pendant could also be ordered in sterling silver.
The gold or silver pendant with garnet or any gem of your choice, would be finely handcrafted to the same high standards.
There is no limitation on gem selection, the gemstone type, shape, size and cut for your custom made pendant, can be decided by you. All gems are natural and certified for their authenticity.
Each pendant is expertly crafted by highly skilled Thai artisans. Besides accommodating requests for all design modifications, we can also craft a pendant with you own design.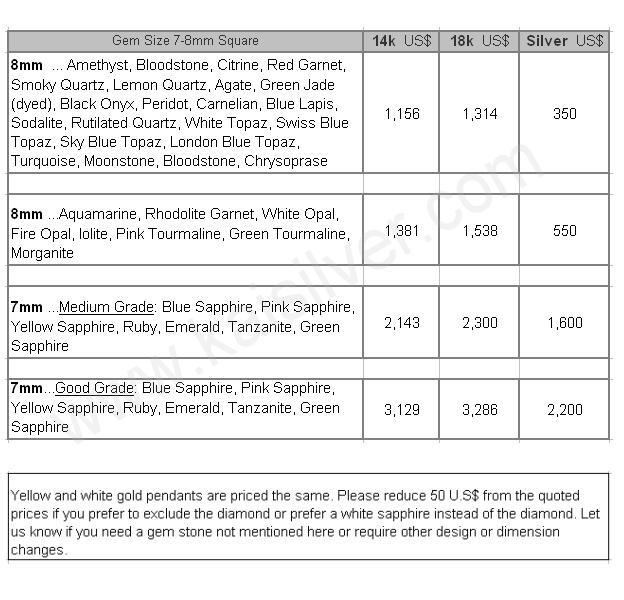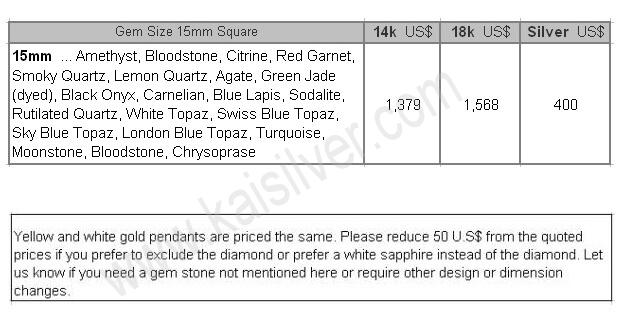 Birthstone Pendant: Talk about a gemstone pendant in gold or silver and you just cannot, avoid talking about a birthstone pendant. The concept of a birthstone pendant is based on the month in which a person was born. Among the dozens of gems and crystals used in jewelry, it is believed that we all make a special connection to a specific gem. One or more gems are assigned to each of the 12 months in the calendar - those are the birthstones for each month. If we talk about the PG100 gold pendant shown on this web page with a red garnet, the pendant would be perfect as a January birthstone pendant. Yes garnet is the birthstone for the month of January.
Something that you remember is that, a birthstone pendant would be special all through the year - not just on your birthday. And if you are thinking of gifting a birthstone gold pendant to someone special, you need not wait for their birthday to deliver the gift. As an example a gold pendant gifted on Mothers Day, would be awesome if it had the birthstone of your dear mom. No doubt that wedding or engagement jewelry, could include a birthstone pendant.
Matching Earrings: While a silver or gold pendant on its own, would deliver a wonderful accessory look - some of you might want to match the PG1100 garnet pendant with a pair of gorgeous earrings. Reminding you once again that, there is no reason why your pendant and earrings, should be limited to garnet. Kaisilver can custom make your jewelry, with any gemstones of your choice. An ideal design concept for a set of pendant and earrings, would be to have simple square stud earrings. Providing a matching set of gemstones, would be no problem at all. This because all gems are procured directly from the mines and custom cut, by our expert gem cutters.
Quick Tips: When earing your gold garnet pendant, make sure that the pendant is clearly visible when worn. This would involve selecting the right chain size. We generally suggest that you get the chain at your end. Almost all gold chains are machine made these days, your local jeweler would be in a position to show you various options to choose from. Since the chain for your garnet pendant might have to have its length adjusted, a local jeweler would be the best choice for your chain.
How To Order: Whether it is a custom pendant or any other jewel that you plan to order, we would suggest that you do not be in a hurry. Discuss your requirements with our experts at sales@kaisilver.com and take their advice. Since each pendant or for that matter any jewel, is fully custom made - we can accommodate all requests for design changes. While you could pick any design from our websites and request for it, to be crafted in gold or 925 silver, we can also craft a unique piece based on a design provided by you. The gemstone for your pendant can be selected by you, there is no limitation on gem selection.
Each jewel is expertly handcrafted by a team of highly skilled artisans and gem cutters in Thailand. There is a 4 to 5 week lead time for production, counted from the date of order confirmation and receipt of payment. We recommend Paypal as the payment option for first time buyers. However we can also accept Western Union Payments and Bank Transfers. Let us know your preferred mode of payment, we will provide details for the same.
Who Is Kaisilver: The leading online provider for finely crafted custom made jewelry, Kaisilver ships across the globe. Over 12,000 satisfied clients spread across 15 nations. Gold and silver jewelry is crafted to the same superior standards, the design can be yours or ours. Networked to gem mining and cutting operations all over the world, we have preferential access to over 200 million carats of gemstones. We place no restriction on your choice of gemstones, jewelry designs can be yours or ours. Contact us at sales@kaisilver.com if you have any questions related to gemstones and jewelry.