Garnet Rings Silver Or Gold
Garnet is one of the oldest gemstones to be known to humans, interestingly it was often referred as ruby. This was centuries ago when all crystals were 'identified' merely on the basis of their color. Every red gem was mistaken for ruby, every green gem for emerald! Long before people learnt how to make gemstone rings, garnet pieces would be carried or worn as an amulet - this for some interesting reasons. We will come to all that through the course of this report on garnet rings. Gem and jewelry lovers today, love to know the history, folklore and benefits of the of the gems that they wear. We have packed this report with such information and used almost no sales talk. We should mentioned here that, we can craft a garnet gemstone ring for you, with your design or ours. Both gold and 925 silver garnet rings have the same superior standards. You can request for red garnet, rhodolite garnet, demantoid garnet, green garnet, tsavorite garnet, spessartite garnet or hessonite garnet. We place absolutely no restriction on gem selection for the jewelry that you order.
A garnet ring with a deep meaning and significance, the 4 century old claddagh ring is respected as the world's most meaningful jewel. If you were born in the month of January, garnet is your birthstone. So if you celebrate a January birthday or just happen to love garnets, this garnet claddagh ring in gold or 925 silver should be one of the top rings on your checklist ... more.
Despite its beauty and immense historic significance, red garnet is priced very reasonably. This is the reason why, garnet is popular in silver and gold rings. The MAN121G men's garnet ring is shown in silver, can also be crafted in gold. The texture on the ring is optional, some stylists believe that a silver ring with texture shows lesser signs of wear and tear ... more.
A cute garnet gemstone ring, the RN001 cat ring was first crafted decades ago in the Kaisilver jewelry factory, this was before we started our online operation. Cat and animal lovers have adored this cat ring ever since it was first designed. Shown as a garnet ring, the ring can be ordered in gold or sterling silver with your choice of gemstone. Perfect for a mother's gift ... more.
If you like to show of a lot of gemstone in your men's ring but, do not wish to make the ring very high, the MAN140 is the perfect choice. The ring is shown with a large brandy color spessartite garnet, from our experience men prefer this shade of spessartine to the bright orange shade - the choice is yours. Finely handcrafted in gold or silver all gems ... more.
You will not find many gemstone rings with natural orange gemstones. Kaisilver procures the rare natural spessartite gems directly from the mines. Colors range from medium orange to the rich brandy color. Men's gemstone rings with spessartite are generally being ordered with large gemstones - in the brandy orange color shades. Each gemstone is certified.
A classic deep red garnet ring for men, built like a fort and with very impressive looks, the MAN57 men's garnet gemstone ring can be ordered in all sizes - gold or sterling silver. Shown as a red garnet ring, the same jewel could also be ordered with an orange spessartine garnet. Prices will differ and a custom price quote can be provided on requests. All sizes available ... more.
This multi gemstone ring can be crafted with the gems of your choice, the second gem on the left is a garnet. A very popular Kaisilver mother's ring, the RG229Y is ideally ordered as a family birthstone ring - with the birthstones of all family members. The garnet options for this ring include red garnet, spessartite, demantoid and green garnet. Ring is fully customizable ... more.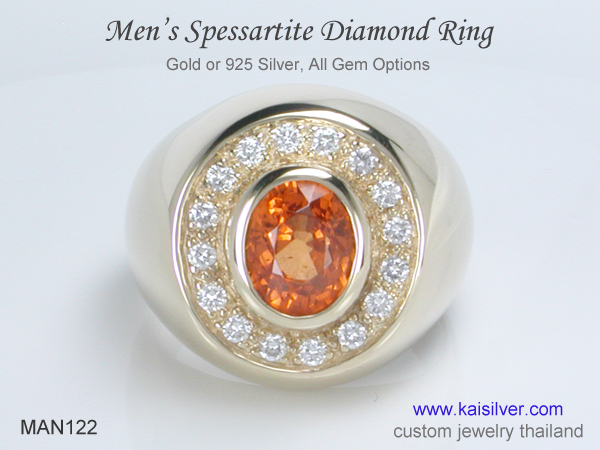 About a 1,000 times rarer than red garnet, orange spessartine garnet is best viewed when it has a shade of brown to the orange - the color of fine brandy. This men's garnet diamond ring can be ordered with a red, spessartine, tsavorite or green garnet. We can also craft a unique garnet gemstone ring for you with your own design specifications - gold or 925 silver ... more.
Superbly crafted in gold or sterling silver the KSR002 garnet gem ring, can be ordered with any gemstone of your choice. And if you prefer to stay with garnet choose from red, rhdolite, tsavorite, demantoid garnet. All gemstones are natural and certified. As a birthstone ring, garnet is the January birthstone. Size and shape of the gemstone can be customized ... more.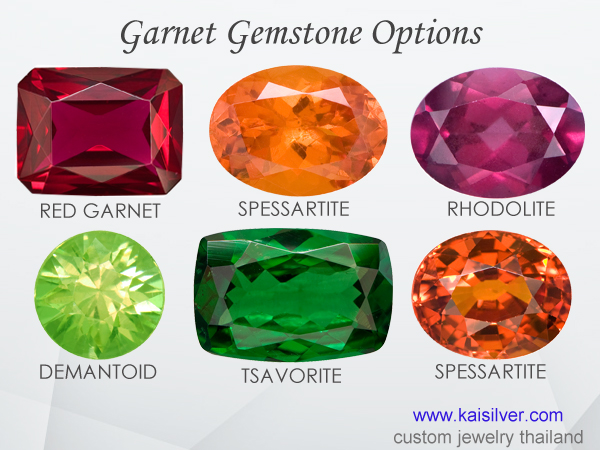 We have talked about a range of garnet colors in this report. This image gives you a good idea of these colors. Kaisilver experts procure the gems from their respective mines, each gem is certified for authenticity by an external certification agency. Each garnet color, has a range of variations. We welcome you to discuss your precise requirements with our experts.
Kaisilver will venture to every corner of the globe to get a garnet gemstone for you, your garnet ring can be crafted with a red, orange (spessartine) or green (demantoid, tsavorite) garnet. Having said that there is little doubt that most garnet gemstone rings are ordered with red garnet. No denying that red garnet has a classic look, the kind of appeal that never fades with time and never needs to be in and out of fashion. But the main reason why you see so many red garnet rings in silver and gold is that, the existence of garnets in other colors remained a secret for many centuries. It is important to understand that garnets which would have formed about a million years ago, did consist of many colors. The big possibility was that garnets in colors other than red, were confused with other gems of the same base color. This is a logical explanation because, those were the times when gems were identified merely by their color - gemology had not developed and science was unable to define clear parameters for identification.
So how did the gem get the name 'garnet', this once again brings us to the fact that there was once a presumption that garnets are always red - only red. The Latin word 'granatum' refers to the fruit pomegranate, the name garnet implied the similarity between red garnets and the seeds of the pomegranate. Many of you would wear a garnet ring for the 'special' properties that the gem is believed to possess. There are many Asians who still believe that, garnet facilitates safe travel. Gem lovers often ask us whether, a garnet ring or any garnet jewel is the right choice to increase chances of success - on a mission or in general life. Well known folklore says that garnet inspires confidence and provides inspiration to face tough challenges. These are obviously important elements of any plan to succeed, this would probably increase chances of success. Just reminding you that these are all customs and traditions and should be taken as such.
Brief information about spessartite or spessartine garnet rings. Generally described as an orange garnet, this variety of garnet can also be found in red. From our experience demand for the 'brandy' colored spessartite found in some African mines is on the rise. Many stylists believe that pure orange is a party color, something about being informal and fun loving. This is probably why style and quality conscious jewelry buyers, are picking spessartite with a hint of brown in the orange - the trade name commonly used is 'brandy' color spessartite. If you plan to order a spessartine garnet ring from Kaisilver, request for a choice of color range from our support experts. We shop at all spessartite mines and can pick the gem of your choice.
Now on to two amazing varieties of green garnet, let's start with demantoid. A rare gem surely not enough material found to excite mass markets - but truly spectacular. If you wish to wear a demantoid garnet ring without paying a super high price, pick a design that accommodates gemstone sizes of 1 carat or below - 5mm sizes should be even better. The name demantoid means 'diamond' or 'diamond-like', some attribute that meaning to foreign languages like German, Dutch and even French. Having said that, we will clarify that a demantoid ring is absolutely different from a diamond ring - similarities exist only visually. Diamonds show a brilliance a 'fire', this comes because of the high dispersion rating (technical term) of the precious stone. Now demantoid has a dispersion number that comes close to that of diamond, this means that it also shows a scintillating fire and brilliance. While we can source this gem without any problem for your garnet gemstone ring, keep in mind that prices can be very high (per carat) as the gem size crosses 0.5 carats. The general belief is that, demantoid with slight brownish yellow tint to the green delivers the best glitter and fire. Personal choices vary so if this gem interests you, request our team to provide a color range to choose from.
Now coming to the second type of green garnet - tsavorite. Nice green but when very large or very color saturated, tsavorite garnet can appear very dark. Not seen often in garnet rings, tsavorite is a rare green garnet that Kaisilver sources directly from the mine locations in Kenya. The gem gets its name from the Tsavo National Park in Keyna, the place where it was first found. Much more expensive than spessartite garnet, tsavorite rings can be reasonably priced if the gem size is restricted to under 2.5 carats - color is everything so make sure that you know what you will be getting.
Lesser known garnets include hessonite, often a brandy color like some spessartite. Having said that, it is important to know that hessonite is not very durable - so unless you have a specific reason to pick this gem, go for a spessartite garnet ring and request for a brandy color spessartite.
There is something about garnet gemstone rings and this applies to red, spessartite or green garnets - these rings do full justice to the beauty of the gemstone irrespective of the metal color chosen for the ring. This means that white gold, silver, pink gold or yellow gold would be just fine for garnet gemstone rings. Kaisilver maintains the same superior standards for both gold and silver garnet rings, the choice of metal is therefore up to you. You can pick 10k, 14k or 18k white, yellow or pink gold or even sterling silver when ordering a Kaisilver garnet ring or any other jewel. Men have shown a specific liking for men's silver garnet rings. This probably because of the classic and confident look, that the combination of metal and gem color delivers.
Our experts are often asked whether, garnet is good enough for a formal ring - something like an engagement or wedding ring. Just remember that we at Kaisilver believe in educating and informing gem and jewelry lovers, making sales transaction comes secondary to us. Young couples today (rightly) do not stick to traditions and conventions today, this even when it comes to picking a wedding or engagement. The idea that diamonds are mandatory for matrimonial rings, that these jewels should have stiff price tags etc is outdated. You can pick any design and any gem for your wedding ring, so go for a garnet gemstone engagement or wedding ring - if that is what you like. Garnet is a fine gem with plenty of tradition and folklore attached to it and is even more special, for those born in the month of January. The birthstone charts list garnet as the birthstone for the month of January.
How To Order: Our websites are geared to make you feel comfortable, we do not push sales talk and do not encourage a rush purchase. Each of the items shown on this web page and other Kaisilver websites - will have a linked to a detailed report that provides all information. You can read detailed specifications metal and gem options etc. Having said that, we encourage you to discuss your requirements with our experts at sales@kaisilver.com Make sure that all your queries are answered before you move to the payment and order confirmation phase.
You can pick any jewel from our websites and request for it to be crafted in gold or silver, with garnet or any gemstone of your choice. The gem that you pick need not necessarily be mentioned on our online resources. Besides accommodating all design modification requests, we can also craft a unique jewel with your own design sketch or concept.
Who Is Kaisilver: The leading online provider for high end custom made jewelry, Kai Silver today serves over 12,000 quality and style savvy clients across 15 nations. We craft gold and silver jewelry with the same premium quality standards. A team of expert artisans and highly experienced gem cutters in Thailand, work on all Kai Silver orders. We work with your designs or ours, no restriction on gems or design. Networked leading gem mining and cutting operations in most nations, we have preferential access to over 200 million carats of gemstones. This ensures that you always get the best gem at each price point. Get in touch at sales@kaisilver.com if you have any questions or requirements.