With jewelers offering an increasing number of men's rings, it is necessary to understand the features and essentials of men's rings. When you shop for a sterling silver or gold ring for men, you need to evaluate a number of features and not just appearance and price tags. Kaisilver custom made rings for men are based on designs, that are thoroughly researched. Durability, secure gem mounting and optimized metal weight based on ring dimensions are essential. Many jewelers work with insufficiently metal weight hoping that, the lower price tags will get them buyers. The problem with lightweight jewels is that, they tend to deform and damage easily. With increased knowledge about gems, men are today willing to invest in gemstone rings that are significantly more expensive than plain rings. The fact is that gem authenticity, gemstone treatments and gem quality are all shrouded in mystery. This is because jewelers do not wish to keep buyers well informed. At Kaisilver each men's ring is provided with complete information, we do not encourage the 'click and buy quick' online culture as, it is not conducive to buying fine high end jewels. Skilled artisans work on both gold and silver rings, gem quality is uniformly maintained across both metals. We introduce you to some awesome ideas for a men's ring in this section. And if you wish to have something made as per your design ideas or images, we will gladly do that for you. You can email our support team at sales@kaisilver.com with your queries and requirements.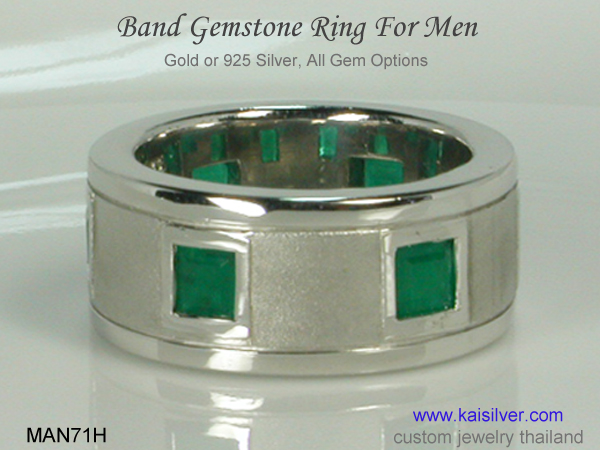 A durable men's band with emeralds or any other gems of your choice. This custom men's ring is crafted in gold or silver. You can also mix different gems in the same band ring.. Durability enhancing features are built into the ring ... more.
A simple, sturdy and abundantly impressive diamond ring for men and women. Custom made with a tapered or uniform band width. Diamond rings can be ordered in 14k, 18k gold or 925 sterling silver. Review the full report for the ring ... more.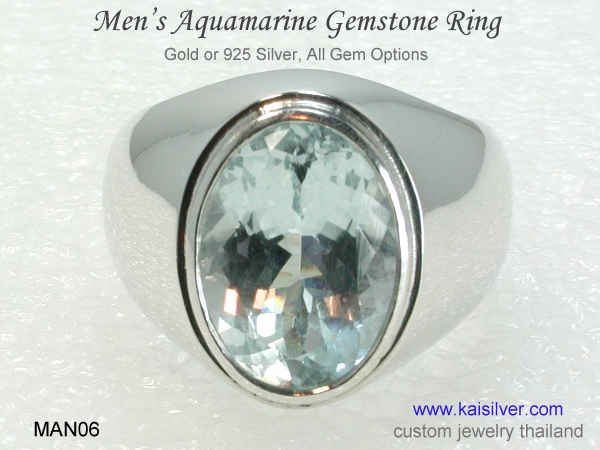 A handsome and durable men's gemstone ring, custom made in gold and sterling silver with the gemstone of your choice. This ring is suitable for large gem sizes, the metal weight is optimized according to the required ring size ... more.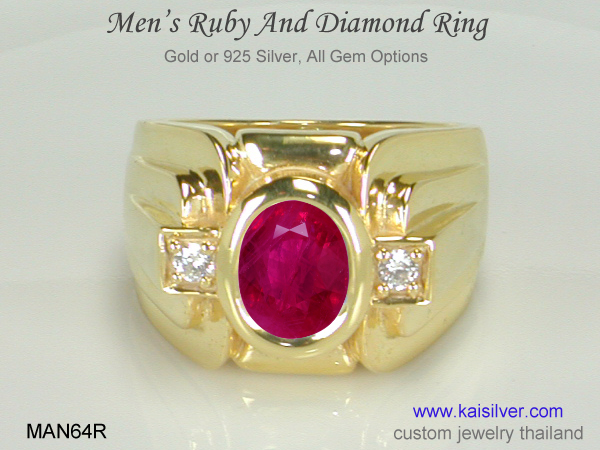 A tremendous men's ruby ring with a natural certified ruby gemstone. This men's ring is crafted in gold or 925 silver, the same quality standards are maintained for both metal options. Review details, pricing and options for this ruby ring ... more.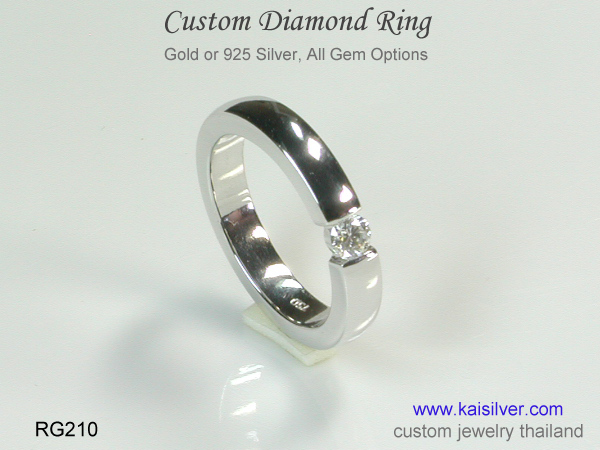 For budgets that can handle a 4mm to 5mm round diamond ring, the RG210 ring from Kaisilver is a great choice. And don't forget that you could request for the diamond to be replaced with a gem of your choice, size and shape decided by you ... more.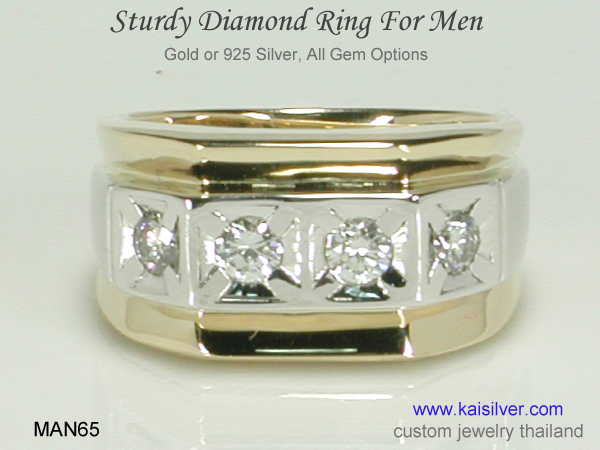 A sturdy diamond ring for men, available in gold and silver. The MAN65 men's gold diamond ring can be ordered in a dual or single gold color tone. This is an impressive ring that, will add a touch of class and status to every personality and style ... more.